Zoar: A place of refuge; a sanctuary
by David Taylor
Throughout Oregon, your Oregon Synod churches continue to live out God's work through persistent, world-changing, and quiet acts of love. This grace-filled accompaniment of neighbors is God's wild web of relationship in action. Zoar Lutheran Church in Canby is an outstanding example with four programs that fill serious needs for people in the community.
The name "Zoar" means "little" and is the name of the small town where Lot and his family took refuge before the destruction of Sodom and Gomorrah (Genesis 19:20-23). Zoar Lutheran Church is a relatively small congregation in whose people have a great heart for mission and ministry. Recently, four of the leaders met to describe their valuable services with Pastor Michelle Manicke, JoAnn Rothi, the council president and me, roving synod correspondent David Taylor.
Importantly, Zoar's programs have strong cooperative ties to other non-profits and government agencies. Without this mutual support their work would not be nearly so successful! It reveals how Zoar is playing a critical role of supporting people in need within the entire Canby region. These four endeavors are the Sewing Circle, furniture ministry, emergency weather shelters, and community dinner.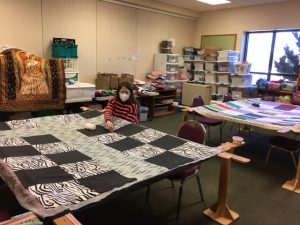 The Sewing Circle, led by Jennifer Benz, is much more than it sounds. Quilts are made by Zoar members and other friends. They volunteer long hours to provide for families in need. These beautiful quilts, see photo, begin with remnant fabric donations that become quality products for needy families and foster children. Also, after a ceremonial blessing of the quilts, some are sold to community members to raise funds to sustain this important work. The Sewing Circle quilts are also used by and donated to people coming to the warming shelter.
The need for increased shelters for families emerged during the fall 2020 fires that endangered the community. Zoar was there to provide comfort to those whose homes were threatened in the heat extremes up to 119 degrees! The Emergency shelters provide overnight accommodation and sustenance from 7 pm to 7 am, daily, including a breakfast. Overnight stays have ranged from 2 to 25 visitors. This effort is led by Steve and Chris Morgan and many, many volunteers, offering an alternative to other shelters. In a context of very high rent and lack of affordable housing, the Zoar shelter collaborates effectively with the other services in the Canby region. Besides food and shelter, the goal is to have a clothes washer and dryer available in the future.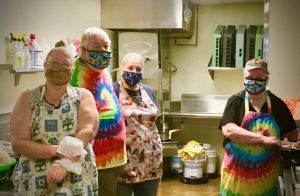 Zoar Lutheran has been providing free Community Dinners for more than ten years. Originally, the meals were served weekly but since COVID they've been increased to two nights per week. Connie Tye and Chris Morgan work closely with the Canby Center by receiving donations and preparing dinners every Tuesday and Sunday night. Meals are available to all, regardless of need. The Zoar kitchen has a large refrigeration capacity and multiple restaurant style stoves
to meet all the needs. The centerpiece is 'Sir Mixalot'- a commercial mixer and essential partner in preparing food for so many people by volunteers with professional experience. Zoar is often preferred over other options due to the superior food and other amenities.
The furniture ministry, under the leadership of Don Weaver and Mary Eastman, is another critical part to Zoar's large "extended family" as Zoar leaders refer to its services to the community. In close collaboration with Love, Inc. of Clackamas Co., since 2005. (Love Inc. stands for "Love, in the name of Christ".) The furniture ministry serves as a clearing house through congregant donations, Zoar Lutheran rebuilt a large garage to store and distribute a wide range of furniture and housewares. While serving on its board of directors, Don has built an effective collaboration with Love, Inc., to help build this ministry. Through Love Inc., Zoar Lutheran provides church leadership with tools for their congregants to deeply serve others… through support, coordination and training.
The name "Zoar" means "little" and refers to a place of refuge for God's beloved people. Zoar Lutheran Church is a relatively small congregation, whose people have a great heart for offering refuge to God's people in need today. Together with their many community partners, the members and friends of Zoar are striving to be true to the congregation's biblical name, as they find new and creative ways to reach out and provide a "little place of refuge" for neighbors in need.