If you're a young adult aged 21 to 29, you should consider applying for an international service year through Young Adults in Global Mission (YAGM). There are opportunities in 10 country programs around the world, with areas of interest ranging from education to environmental justice. You can walk alongside global church companions and learn what it means to serve in a spirit of accompaniment.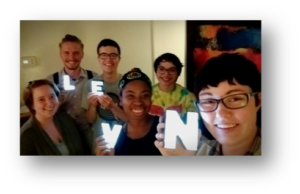 LEVN, the Lutheran Episcopal Volunteer Network, is looking for young adults (age 21-30) for an 11-month program of non-profit volunteer service and learning about social justice. From late August 2020-July 2021, our corps members will be provided housing, utilities, health coverage, spiritual direction, and a $535/month living stipend. We also offer a $1000 re-entry grant at the completion of the program.
Placement sites for the upcoming program year include faith-based non-profits, secular non-profits, congregations, outdoor ministry, and our campus ministry at UC Davis to address issues of homelessness, food insecurity, unemployment, children and youth ministries, and other important social justice issues in our communities.
The corps members gather each week for prayer and dinner, live in intentional community in an apartment attached to our campus ministry center in Davis, CA. We're an ecumenical program in the Episcopal Service Corps network; applicants needn't be either Lutheran or Episcopal to apply—interest in Christian spirituality is the only expectation.
The Augsburg Youth Theology Institute (AYTI) is an annual summer program for high school students. AYTI offers young people a chance to connect with others as they practice place-based vocational discernment connected to a specific theme. As we learn, listen, pray, and play on the Augsburg campus, in the neighborhood and the city, we will wonder together about how God is calling us into the world for the common good.