May 24, 2022
Siblings in Christ,
Today was another dark day for our country. A teenager with a gun opened fire on an elementary school in Texas. As of now, we know that 19 children and 2 teachers were killed.
It has only been 10 days since another teenager opened fire at Tops Friendly Market in Buffalo, NY killing 10 Black shoppers and workers in a racially motivated act of terrorism.
According to the FBI, the United States experienced 61 "active shooter" incidents in 2021. (The FBI defines an active shooter as, "…one or more individuals actively engaged in killing or attempting to kill people in a populated area.") This is the highest tally in 20 years and represents a 52.2% increase from 2020 and a 96.8% increase from 2017.
Gun violence is a public health crisis and Oregon has not been immune from mass shootings.
Thurston High School in 1998

Clackamas Town Center in 2012

Reynolds High School in 2014

Umpqua Community College in 2015
Houses of worship are not immune:
Irvine Taiwanese Presbyterian Church, nine days ago

Tree of Life synagogue in 2018

First Baptist Church in 2017

Emanuel African Methodist Episcopal Church in 2017
The current generation of Oregon children and youth, from preschool to high school, live with the anxiety of gun violence and the threat of mass shootings in schools, theaters, malls, synagogues and churches. This impacts their physical, mental/emotional, spiritual and social health.
This is not normal, and we need not accept it. 
Jesus said, "Blessed are the peacemakers for, they will be called children of God." Lutherans are called, as are other Christians and those of other faith traditions, to be prophetic voices of vision and conscience while working for the common good from an ethic of love. Voices of young leaders in our state and nation are speaking out with the same clarity and power as those before them and are saying enough is enough and now is the time to end the gun violence.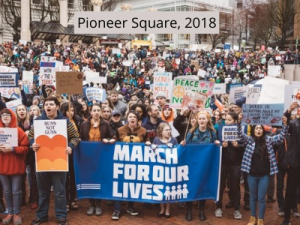 We hold with love all those who have been lost to gun violence and those that loved them.  Let us work together and with our allies to make the world a safer place for our siblings, and our children.
With you on the Way,
Bishop Caesar