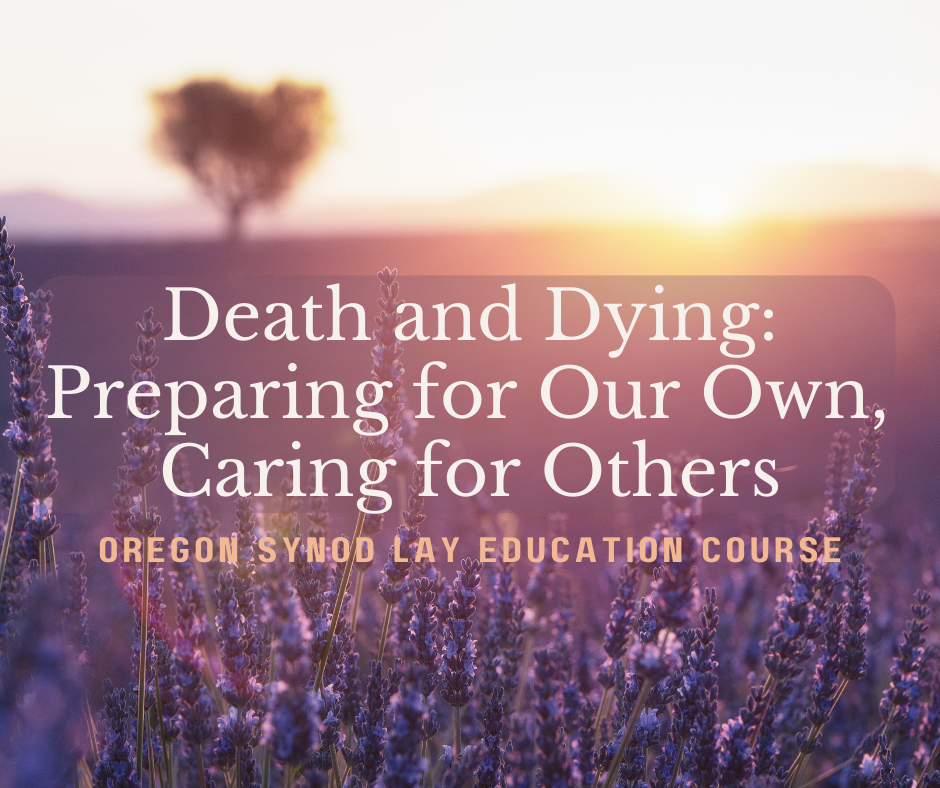 Death and Dying: Preparing for Our Own, Caring for Others
September 20 @ 6:30 pm

-

8:00 pm
How might I prepare for my own death?
What are ways to be present, grounded, and supportive as someone dies or grieves?
Join with others from around the Oregon Synod as we learn more about the dying process itself, what happens shortly after death, and advance planning. We'll also explore the legacies we want to leave, knowing our own grief, being present for others' grief, and related rituals. This on-line course will meet on eight Tuesday evenings from 6:30-8pm (Pacific Time) beginning September 20, with each session focused on a different topic.
September 20: Creating a Shared Foundation
September 27: The Dying Process
October 4: After Someone Dies: The First Hours and Weeks
October 11: What do you want your legacy to be?
October 25: Advance Care Planning
November 1: Authentic Presence with Our Own Grief
November 8: Grief: Being Present with Others (Part 1)
November 15: Grief: Being Present with Others (Part 2)
We will be joined by four guest instructors over the course of the eight weeks who bring a depth of experience in chaplaincy, palliative care, and hospice.
Rev. Jill Rowland serves as director of spiritual care at Legacy Emanuel Medical Center in Portland
Rev. Kaitlin Pabo-Eulberg serves as a palliative care chaplain at Providence St. Vincent Medical Center in Portland
Deacon Sue Best serves as a palliative care social worker with Salem Health and as deacon of pastoral visitation with St. Matthew Lutheran in Beaverton
Rev. Mary Peterson recently wrapped up 17 years at Providence as a hospice chaplain.  She is currently serving a part-time call at St. Peter Lutheran Church in Tillamook
The course is designed with a Lutheran lens and inclusive heart; all are welcome. Course participants and/or their congregations are encouraged to donate, as they are able, on a sliding scale between $20-$160, but donations are not required to participate.
Stay informed about upcoming Oregon Synod events;