SYNOD STAFF
Bishop Laurie Larson Caesar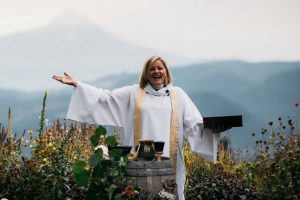 Bishop Laurie Larson Caesar was born and raised in the small logging town of Libby, Montana. Her family's church, Christ Lutheran, was founded early in the last century by Norwegian immigrants, including her great-grandparents Anna and Carl Larson.
During her studies at Stanford University Laurie's campus pastor suggested a mission trip to El Salvador to help the university students there rebuild their school after a recent earthquake, and to meet refugees and mothers of the disappeared dealing with the horrors of the ongoing civil war. There, Laurie saw her faith tipped upside down;  biblical words like hope, community, peace, justice, sanctuary, orphan, widow, love and liberation became real, three dimensional and full of color, texture, life. God picked her up and kissed her, in other words, and sent her into a beloved world to reflect that kind of liberating love and wild, shimmering passion.
Bishop Laurie's ministry has been shaped by the engaged theological imagination of the Lutherans and Catholics at
Spirit of Grace
, Beaverton. Their modeling of the shared life of faith has taught her how to weave her spiritual life with authenticity, humility, integrity, collegiality, humor, courage and grace.
Now that she stands on the threshold of the office of bishop in the Evangelical Lutheran Church in America, she is thrilled to begin new collaborations with a wider community of wise and passionate leaders in the Oregon Synod and beyond.
This church is God's church. Laurie cannot wait to see what the wild and surprising Spirit does with us next!
"The earth is our God's and all that is in it."  Psalm 24
Rev. Melissa O'Keefe Reed
Melissa was born in Goettingen, Germany while her parents studied theology. She was raised throughout the New England Synod, the daughter of two Lutheran pastors, where she learned the power of community to nurture active, curious, relentless faith in an incarnate, relational God. This faith would agitate her at Boston College (BA in English), through work in a Lutheran Community Services group home, and at Pacific Lutheran Theological Seminary in Berkeley, CA (MDiv, 2008) where she encountered faith-based community organizing in Oakland. Suddenly, the resurrective power of this relational God who dwells most profoundly in the world's wounds came alive in flesh and blood.
In Portland, Oregon, among her internship congregation, Redeemer Lutheran, she personally experienced the liberative power of the gospel lived out among a congregation who intentionally shared their stories with one another and their neighbors, listening and responding to God's call stirring in their collective woundedness. Melissa was then called back to work with a team that would midwife the intentional death of Redeemer into a new community and organizing Body — Salt & Light Lutheran Church and Leaven Community (leaven.org) where she served as a mission developer and then pastor, community organizer and co-executive director until September 2019. Leaven teaches Melissa what it means to be fully human and to move together in the eternal.
Melissa is married to Deacon Matt Smith, a hospice chaplain, fifth grade basketball coach, and backyard contemplative gardner. They have two children — Jack Francis (11) and Brigid Clare (5), and two dogs — Mookie the chihuahua and Gracie the pitbull.
Melissa leaps out of bed in the morning to accompany, resource and bless beloveds, particularly those on the margins of the church and the world, to come alive in the discovery of the power of their stories in relationship and in their response to their call. She sprints to develop the leadership of teams to lead their people in developing and enfleshing vision and action that grows from shared vulnerability. She dances to co-create process that weaves faith communities and neighbors to do the work of Life. She is a strategy wonk, recently fell in love with 90-Day Plans, and loves to prepare liturgy that is public action and public action that is liturgy. Her spiritual practices include kitchen dancing, relational one-to-one conversations, and friendship. She trusts our trickster Seamstress-Spirit to mess with any irrelevant or vicious line we humans draw and to thread our lives in ways beyond expectation. And, she trusts such Spirit is present and at work throughout the Oregon Synod.
Juan Carlos La Puente Tapia
I moved to Portland, Oregon from Peru in 2014 with Rae Anne and our daughter Isabel. It has been a wonderful adventure surrounded by the beauty of the forests, rivers, and mountains. For many years I have been working on supporting organizations and institutions on how to root their work for justice and peace into a relational culture that fosters community dialogue and discernment. Since 2016, working with leaders from the Oregon Synod and other countries, we have been doing theology to enlighten the community dialogue and discernment in communion with those we call our ancestors as a source of compassion and deep hope. All of these efforts have been developed through spiritual and theological mutual accompaniment.
When Bishop Laurie called me to join the Oregon Synod staff as Bishop's Associate for Inter-cultural and Inter-religious Mission, my first heartfelt response was, 'We are journeying on the path together' – this is the meaning of the Greek word Synod (Syn-odos). But I also asked myself 'what path?'
I feel called to walk a path that we discover together with the people when we are able to open our hearts, our stories, our vulnerabilities, and our dreams. From that openness, we share our longing to be truthful facing the threats to Life, mainly Life that is most vulnerable and damaged. This is the path that has been helping me to see once again the living Gospel. I am honored to walk this path alongside people who have been accompanying one another through the Oregon Synod (congregations, projects, initiatives, and more). This is a path of transformation, a path that is always new because it is nurtured by Love and continuously opened through diversity and the plurality of creative responses to protect Life. Sometimes I ask myself, 'what might a People's Synod look like?'
It is inspiring to continue to be 'Ecclesia semper reformanda (always reforming)' that lives and encourages us to disclose our truth with love -therefore without fear- and remove everything that is deafening us to the call to universal love, universal compassion, and to unbounded openness to be freed to love.
Jemae was born and raised in Portland by Oregonians and has deep family roots throughout the NW. She grew up with an outdoors-loving family and still frequently travels and explores nature and communities around the state. In high school, when she read a speech by Chief Sealth the interconnectedness of all things coalesced and planted the seeds that grew into her achieving a B.A. in Human Ecology from the College of the Atlantic in Maine and an MBA in Sustainable Business. Following years of customer service, people and project management, strategic and process planning, and supporting people and organizations in retail and corporate realms, she is delighted and excited to join the Oregon Synod team in their work. Each day she is genuinely inspired, challenged by new information and ideas, and full of gratitude to support the work of the Oregon Synod. A collaborative problem solver at heart, her core work philosophy is to assume positive intent and to set people up for success. Her position as synod administrator entails supporting the staff, managing the synod office and roster, organizing events, and feeding her curious mind by learning new things and learning better ways to do things.
Christie Bernklau Halvor, PhD
Christie has been shaped by intentional community throughout her life, and many of those communities have been Lutheran. Her parents were raised in part by the people at Macksburg Lutheran in Canby and Good Shepherd Lutheran in Eugene. They, in turn, showed up with Christie and her sister for the daily work and blessings at Christ the King Lutheran in Tigard. When she was in high school, the Oregon Synod changed Christie's life by including her as part of a youth delegation to East Germany and Sweden where she met lifelong friends who helped open her eyes to the ways in which the church has and has not followed Jesus' example of speaking up for and walking alongside people in their most vulnerable moments. The questions and "ah ha's" from that trip influenced her studies in social work and global studies at Pacific Lutheran University. And her sense of community expanded again when she married Dave and was warmly welcomed by the people of his home church, Gloria Dei Lutheran in Coos Bay.
Christie's experience of church took some twists and turns after college, including time spent struggling to find a faith community where she trusted every one of her friends and family would be truly welcomed. Since 2000, she has gratefully called Spirit of Grace in Beaverton home. Christie lives in Canby with her family, a dog, and six chickens. Goats would definitely be in the mix if there was more room. She finds joy and perspective in the garden, listening to music, at Holden Village, volunteering for immigrant justice, traveling, writing, and with beloved friends religious, spiritual but not religious, and none of the above.
Prior to joining the Synod staff, Christie worked as an Associate Professor of Social Work and Practicum Program Director at Concordia University in Portland. She holds a Ph.D. in Social Work and Social Welfare from Portland State University, and is also a Licensed Massage Therapist.
Originally from South Carolina, Jack has worked in higher education settings all across the United States and Europe. He currently works with pastors, other staff and lay leadership at West Linn Lutheran Church as their ministry operations and communications manager, and is responsible for the day to day office administrative tasks at the church. In addition to this, he serves as the curator for administration and mission at Beloved Community, an ecumenical new monastic community supported jointly by the Episcopal Church and the United Methodist Church. Jack is also a certified spiritual director and loves to accompany others on all the life questions we often ask ourselves. Jack's interests are connected to his passion for social justice and the desire to create community and space for others. Jack recently married his husband Chris, and lives in SE Portland. They love hiking, traveling and home improvement projects. Jack is excited to be part of the Oregon Synod Team. He sees ministry as an opportunity to draw the circle wider and looks forward to contributing to that sacred work.
Rev. Matta Ghaly (they/them) is a rostered minister in the Oregon Synod, currently serving as the pastor of Mt. Carmel Lutheran Church in SW Portland. After studying process-oriented psychology, Pr. Matta completed a master of divinity at Luther Seminary and a master of arts in systematic theology at the Graduate Theological Union. They are currently pursuing a doctorate in ministry, developing a trauma-informed, somatically-based process of contemplative formation for congregations, activists, and religious professionals. In their ministry, Pr. Matta aspires to be heart-centered, attuned to the body's wisdom, and grounded in cultural humility. They are thrilled to begin their new role as director of candidacy, accompanying, supporting and advocating for candidates on their discernment journey.