Assembly
Assembly is a time to worship, connect, care for the business of our synod, and ground ourselves and the world in God's love. This year our event was centered on Genesis 1:1-1:2. We were joined by keynote speaker, Dr. Susan Abraham, and ELCA Churchwide representative and Senior Director for Diversity, Equity, and Inclusion, Judith Roberts. Workshops featured themes to support challenges, opportunities, and conversations relevant for the life of your Church.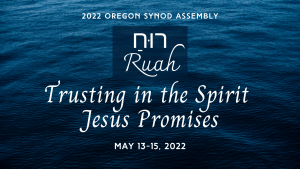 What is Synod Assembly?
The Synod Assembly—made up of voting members from all synod congregations—is the governing body of the Oregon Synod. Through a democratic voting process the Synod Assembly establishes synod ministry priorities, approves the synod budget, and elects members to synod positions. This annual gathering of clergy and lay people represents the synod's highest legislative authority.
The Assembly
receives information and reports
elects nominees to leadership positions in the church
reaches decisions on matters brought before the Assembly
votes on proposed memorials and resolutions
sets priorities for the synod's ministry
equips and educates those who attend to interpret the mission of the synod in local ministry settings
celebrates the community that is the Oregon Synod through development of relationships and worship