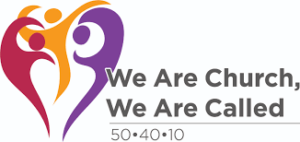 2020 marks the 50th anniversary of the ordination of women in the ELCA, the 40th anniversary of women of color, and the 10th anniversary of LGBTQ+ siblings.
It's an incredibly important marker for the ELCA, though it is only the beginning for the Church, as women are still denied ordination across the denominations and hold less than 15% of the leadership positions in the worldwide church! Therefore, in 2020, we in the Oregon Synod will highlight one woman from Christian history every week for fifty weeks. Some you may know, others you may not, but all worthy of our respect and gratitude.
#49: Elizabeth Ann Seton
In 1797, Elizabeth Ann Seton was one of the founders of the first charitable institution in New York City, the Society for the Relief of Poor Widows with Small Children. Six years later, she joined their ranks after her husband died, leaving her to raise five small children. The family left Italy (where they had been living for her husband's health) and returned to America. These experiences wrought many changes in Elizabeth, including her desire to convert to Catholicism (she was raised Episcopalian). This decision caused her to be ostracized by family and friends, as anti-Catholic sentiment was high during this time. For years she struggled to make a living to support her family. Eventually, she found employment running a small school for boys. In 1808, she accepted her priest's invitation to open a Catholic girls school. In 1809, she founded the first American religious community, the Sisters of St.Joseph. The sisters started providing free education to Catholic girls—which is now considered by many to be the beginning of Catholic parochial education in America. Mother Seton continued to teach and work for the community until her death in 1821. In 1975, She became the first native-born American to be canonized by the Catholic Church.