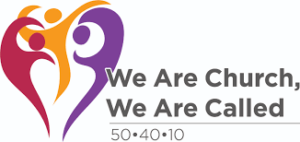 2020 marks the 50th anniversary of the ordination of women in the ELCA, the 40th anniversary of women of color, and the 10th anniversary of LGBTQ+ siblings.
It's an incredibly important marker for the ELCA, though it is only the beginning for the Church, as women are still denied ordination across the denominations and hold less than 15% of the leadership positions in the worldwide church! Therefore, in 2020, we in the Oregon Synod will highlight one woman from Christian history every week for fifty weeks. Some you may know, others you may not, but all worthy of our respect and gratitude.
#46: Leymah Gbowee
Imagine for a moment that you are a young woman pregnant with your third child. You are a refugee from a war-torn country. You go into labor two months prematurely. Your baby is born weighing 2.5 pounds. You have no money to pay for an incubator. The hospital hands you a blanket and instructs you and your baby to wait in the hall. You remain in the hall for a week, trying to keep your baby warm. People passing by think you are a beggar and throw you coins. No one would think, watching at this moment, that you would go on to lead a movement that will end your country's war and depose a dictator.
Leymah Gbowee (pronounced LAY-mah boh-WEE) was seventeen when civil war broke out in her home country of Liberia in 1989. Her life quickly devolved from full of promise (a bright girl enrolled at university planning to be a pediatrician) to a living hell (cultural violence, domestic violence, trauma, refugee camps, poverty, hunger, despair). When she gave birth to her premature third child she was living in Ghana, with her children's abusive father and his abusive family. This was the nadir from which she began her rise: "I think there is a moment in everyone's life — we all have it — when you're pushed so far back against the wall, you have two options: allow that wall to swallow you or fight back." She leaves her boyfriend and Ghana. She returns to Liberia, where she gives birth to her fourth child. During a brief period of ceasefire, she enrolls in a UNICEF program to train social workers to help others recover from the trauma of war. She spends the next few years counseling women who had been raped by soldiers, children who had seen their parents murdered, and teen boys who had committed these atrocities as child soldiers. She adopts a fifth child. The ceasefire ends and the war continues. Her education helps her understand that years of abuse and deprivation had taught her to feel helpless; had taught all the women of her country to feel helpless. She joins the peace movement, quickly rising to a leadership role. One night she has a fateful dream in which she hears a voice command "Gather the women to pray for peace." Gbowee, a Christian, was not particularly religious, she felt unworthy of the call, but she answered it anyway. She intended to establish a Christian women's peace movement, but when a Muslim woman found out about her plans, it quickly became an interfaith endeavor. For the next few years, through nonviolent means, the women of Liberia banded together to demand peace from the warring factions. They prayed, they fasted, and they picketed in front of government buildings. Their movement grew as thousands of women participated, dressing in white to show solidarity. A highly-publicized "sex strike" drew international media attention. For weeks the women prayed along the highway to the president's mansion, so he could not miss them when he drove by. In 2003, the women were able to pressure the president into meeting the rebels for peace talks in Ghana. Gbowee and hundreds of women made the journey with them. The two sides did not take the talks seriously, treating it as a vacation. The women were furious. They formed a human barricade to stop the men from leaving the meeting room. When security forces attempted to arrest Gbowee she threatened to take her clothes off. This was a brilliant and desparate tactic, as the men's cultural beliefs meant viewing her nakedness would be a curse to them. The talks continued with renewed focus. The results were decisive. In short order, these women—whom war photographers deemed "too pathetic" to document—ousted a dictator, disarmed the warlords, established free elections, and voted into office the first female president of an African country. In 2011 Gbowee was one of three women to receive the Nobel Peace Prize. To learn more, watch the documentary "Pray the Devil Back to Hell" and read Gbowee's memoir "Mighty Be Our Powers: How Sisterhood, Prayer and Sex, Changed a Nation at War." Gbowee is still working for peace as the founder and president of the Gbowee Peace Foundation Africa.