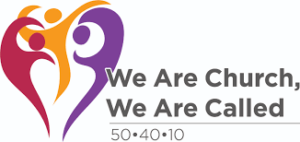 2020 marks the 50th anniversary of the ordination of women in the ELCA, the 40th anniversary of women of color, and the 10th anniversary of LGBTQ+ siblings.
It's an incredibly important marker for the ELCA, though it is only the beginning for the Church, as women are still denied ordination across the denominations and hold less than 15% of the leadership positions in the worldwide church! Therefore, in 2020, we in the Oregon Synod will highlight one woman from Christian history every week. Some you may know, others you may not, but all worthy of our respect and gratitude.
#40 Sisters of the Holy Names of Jesus & Mary
Did you know that a group of religious sisters in Oregon took the Klan to the US Supreme Court way back in 1925 and won? Or that they opened the first secondary school in Oregon and the first 4-year liberal arts college for women in the NW? Meet the Sisters of the Holy Names of Jesus & Mary. In 1859, twelve French-speaking nuns traveled from Quebec to Portland to start a school. Oregon had just become a state; the population of Portland was around 1200. The sisters arrived in the fall, after a harrowing 7,000-mile land and sea voyage. Within a few weeks—with only a few sisters fluent in English—they opened the first high school in Oregon, St. Mary's Academy (open to Catholics and non-Catholics). Beyond teaching, they took on the work of ministering to the community: visiting the sick, comforting the dying, preparing the dead for burial, and taking in orphans. In 1893, the school expanded to award college degrees, (in the early 1900's the college would separate from St. Mary's and become Marylhurst). In 1922 the sisters publicly boycotted businesses that supported the Klan—which was very active in Portland at the time. The Klan responded by helping to pass the Oregon Compulsory School Law—which required all children to attend public school, effectively dealing a death blow to religious education. The sisters sued and the case made it all the way to the Supreme Court. In 1925 the case, Pierce v. Society of Sisters, was heard, the sisters won, and the law was overturned. The sisters continued in their work caring for, and educating, Oregonians. In 1930, St. Mary's Academy opened to Black students, at a time when many cities and towns in Oregon still had "sundown laws" forbidding the presence of any black bodies after dark. In 1937 they opened a preschool for Japanese children. In 1940 they opened an interracial day nursery. The sisters continue to be an active force for good in Oregon today.