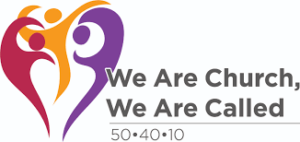 2020 marks the 50th anniversary of the ordination of women in the ELCA, the 40th anniversary of women of color, and the 10th anniversary of LGBTQ+ siblings.
It's an incredibly important marker for the ELCA, though it is only the beginning for the Church, as women are still denied ordination across the denominations and hold less than 15% of the leadership positions in the worldwide church! Therefore, in 2020, we in the Oregon Synod will highlight one woman from Christian history every week. Some you may know, others you may not, but all worthy of our respect and gratitude.
#34: Mechthild of Magdeburg
Mechthild's mystic visions began in childhood. When she was twenty-three, she left her noble family to become a beguine—women who lived in semi-monastic communities, outside the influence of the church patriarchy. Mechthild is known for the same reason many mystics are known: she wrote a book, The Flowing Light of the Godhead. Like her fellow Beguine, Marguerite Porete (whom we profiled on May 3), Mechthild wrote in the common language, German, instead of Latin. Her book is both an account of her own ecstatic, passionate experience of divine vision and a fearless condemnation of vices she observed in the local clergy. Some scholars believe her account of the afterworld influenced Dante's Divine Comedy.