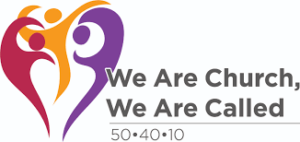 2020 marks the 50th anniversary of the ordination of women in the ELCA, the 40th anniversary of women of color, and the 10th anniversary of LGBTQ+ siblings.
It's an incredibly important marker for the ELCA, though it is only the beginning for the Church, as women are still denied ordination across the denominations and hold less than 15% of the leadership positions in the worldwide church! Therefore, in 2020, we in the Oregon Synod will highlight one woman from Christian history every week. Some you may know, others you may not, but all worthy of our respect and gratitude.
#31: Thea Bowman
Born in Mississippi, the granddaughter of slaves, Thea Bowman grew up experiencing the American sins of blatant racism, segregation, and inequality. Drawn to the love she was shown, the faith she saw in action, and the communal sense of mission she experienced in Catholic school, she converted at the age of 9. At 15, she left her family to travel to Wisconsin to join the Franciscan Sisters of Perpetual Adoration, where she was the only Black member. She flourished academicall
y, working as a teacher and eventually earning her doctorate. Racism continued to be part of her experience. She was often the only Black person in Catholic spaces and she did not feel that the church leadership fully embraced Black Catholics. As the Civil Rights movement grew, Bowman worked to advance racial justice. She helped to establish the National Black Sisters Conference and was a founding faculty member of the Institute for Black Catholic Studies at Xavier University in New Orleans. She called for more encounters between white and non-white Catholics, a welcoming of music from different cultural backgrounds, and increased representation of Black people in church leadership. Inspired in the 1960s by Vatican II, she explored the African-American religious heritage and spirituality. She became a noted public speaker, traveling around the country talking about race and faith, sharing her cultural traditions, and often breaking into song. In 1984, she was diagnosed with breast cancer; she continued to work as her condition worsened. In 1989, dressed in her customary African garb, still recovering from chemo, and in a wheelchair, she became the first Black woman to address the U.S. Catholic bishops at their annual meeting. She began her address "Being a Black Catholic" by singing the Black spiritual, "Sometimes I Feel Like a Motherless Child." Sister Bowman believed that to serve the spiritual needs of Black Americans, the church needed to embrace Black culture. "African Americans for 400 years have used symbol and song to express a faith and yearning too high, too low, too wide, too deep for words, too passionate to be confined by concepts." At the end of her speech, she invited the bishops to move together, cross arms, and sing with her, "We Shall Overcome." Cancer took her life in 1990, at the age of 52. She wanted to be remembered as someone who tried to love both God and humanity. Today there are schools, an education foundation, housing units for the poor and elderly, and a health clinic for the marginalized that are named in her honor. In 2018, the process of her canonization for sainthood began.