Dear Beloved of God,
Today is the Tuesday after Pentecost. And Spirit? She is swirling! Now, as then, we stand at a tense moment in history: hearts burn and protesters pray and unexpected preachers preach and a spirit of change blows with hope. Those who serve the status quo watch, smirk, and ask, "Aren't you just drunk, foolhardy, angry, entitled, or all of the above?"
I am a bishop in the Evangelical Lutheran Church in American, the whitest denomination in the United States. I serve the Oregon Synod, perhaps the whitest synod in the ELCA. I […]
Dear friends in Christ, 
As June approaches, it is time for us to check-in about in-person gatherings. The messages coming from our elected leaders can be contradictory and confusing.
Governor Brown has allowed 31 of the 33 Oregon counties (not the Portland-metro area) to begin phase 1, which allows for groups of up to 25 people to gather with social distancing.
President Trump has deemed churches and other houses of worship "essential" and has called on governors across the country to allow these places of worship to reopen.
Public health experts warn us that the nature of the virus has not changed; […]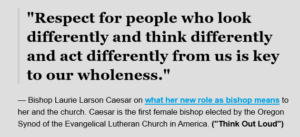 On Monday January 6, 2020 Bishop Laurie was interviewed by Dave Miller for OPB radio's Think Out Loud segment.
Click on the link below to listen to the full interview.
On December 14, 2019, Laurie Larson Caesar was installed as bishop for the Oregon Synod  by ELCA Presiding Bishop Elizabeth Ann Eaton.  The event was held at Trinity  Episcopal Cathedral in NW Portland.  It was an ecumenical and interreligious service with blessings from representatives from the Yakama Nation, the Sikh, Jewish and Muslim communities.  Here are links to two news articles:
Our ancestors focused much attention on strangers, aliens, foreigners, those fleeing persecution. Central to the self-understanding of all who hold the Hebrew scriptures as sacred is this line from Exodus:
You must not mistreat or oppress foreigners in any way. Remember, you yourselves were once foreigners in the land of Egypt.

Exodus 22:21
Except for our Native American kindred, we US citizens were all once strangers in a strange land. The recent declaration of the ELCA as a sanctuary church body is one more way that we are seeking to recognize that, […]
Perfect love casts out all fear. 1 John 4
I am honored to be stepping into this role, honored to be walking with you into God's future. Here in Oregon, we have some of the most innovative, relational and faithful lay leaders, pastors and deacons in the ELCA. I am passionate about supporting you as together we seek to love courageously, live authentically and reflect prophetically the liberating, living Word. The work ahead calls us to be collaborative and creative. The work ahead calls us to be bold and outward-focused. The work ahead calls us to truly […]
June 28, 2019
In the late 1990s the Federal Government threatened water rights to the Little Walla Walla River because Steelhead and Bull Trout were listed as a threaten species. I was a pastor in Milton-Freewater at the time. Those of us who understand the complexities of rural agriculture can imagine the chaos this threatened. Local irrigators, and our church, began to build a coalition which included the Tribes, various government agencies, diverse environmental groups and more. We found a solution and a way around the crisis. Cooperation was the key.
In 2008 I was asked by Gov. Kulongoski to sit as […]
Living at the "convergence of opportunity, need and change" the Oregon Synod voted May 11, 2019 to call the Rev. Laurie Larson Caesar to the office of synodical bishop. Congratulations to our new Bishop Elect!  She will assume her office August 1, 2019.
The picture to the left is of the former Elwha Dam in Washington State. It was removed in 2012 to restore natural fish habitat and it is the largest dam removal in U.S. history (click on photo for video.) Assistant to the Bishop Susan Kintner made […]

"Christ has risen!  He has risen indeed! Alleluia!!"
My wife Gretchen is an end of life advance planner. If she has been to your congregation you know her passion is for a full life and a dignified death. Once the question of healers was "How can we keep this person alive?" Now, when doctors can do so much, the question often is, "When does fighting death rob us of life?" Gretchen will tell you that you have choices you make, and that now is the time to make them. If you choose and […]
Last month I began a series of five monthly emails in response to questions I've received about my vision for the Oregon Synod. I started out with some "big picture" thoughts in February. There I spoke of a "convergence of opportunity, need and change" in the world around us. The ground rules for life really have changed. How we proclaim the Gospel in the midst of 21st century stresses is the question we must engage. This month I'd like to reflect on some […]
It is Friday. This is the primary day of gathering, observance and prayer for Muslims. They will gather this Friday afternoon for Jum'ah, just as we will gather Sunday morning for worship, once again looking over their shoulders in fear of violence in their places of worship. Please take time today to hold our Muslim sisters and brothers in prayer. If you have connection with Muslim co-workers, spiritual leaders or neighbors, I encourage you to reach out to them personally in whatever way you […]