News and Events for the Oregon Synod
Lovers of Christ,
These are unprecedented times to be a spiritual leader. I have been holding you, your families, your congregations, and your communities in prayer, offering petitions and lighting candles around my house to remind me to rest, breathe and pray. These are challenging times.
A few things to note as we move forward together:
The COVID19 news is changing fast, and so will our recommendations to you. We are taking great care not to pass along anything but accurate and safety conscious suggestions. Consider anything from the Disaster Preparedness Team as something from me. We are working together closely, with one another and state agencies. Right now we strongly recommend that you cancel all in-person church activities for at least two weeks and possibly eight weeks or more. Prepare your people. Find ways to stay in touch with your people. While this is hard, public safety is our primary concern. It is evolving, and so will we.
I want to hear from you – see your faces and hear more about your challenges, collaborations, fears, creativity, and prayers. We are working with the deans to create a plan for me and my staff to connect with you this week, virtually over Zoom. If you don't have a Zoom account, please create one. It's free and will be an important way to stay in touch going forward. (You may consider getting a subscription for your church if you don't yet have one. It runs $12.50 – $17 per month and even the least techie person can often figure it out. I have found it invaluable for sustaining momentum already.)
Your Oregon synod office is closed for the immediate future. We are checking phone and email daily Tuesday-Fridays. The Bishop and Bishop's Associates are working from home (phone numbers at bottom of page) and Jemae McCanna will be in the office most days to keep things flowing. Email will be a crucial way to stay connected. The website will hold all of our mailings and soon will be a repository of ministry suggestions you can share with one another. Northwest Washington Synod, for example, has had great success with that, and you may want to check out their idea page for clever ways to do ministry in these times.
The Oregon Synod Facebook Page is another excellent way to stay connected. Encourage all your members to like that page, to like the ELCA and other synods' pages. You will find prayers, ideas, bible studies and so much more! Here's a prayer I posted on my personal page this morning.
For Patrick, Christ was love, light, truth, peace, laughter, hope. If it works better for you, insert one of those words into this section of his well-loved prayer. I'm making it my mantra today. And wearing green.
Blessed St. Patrick's Day!
Bishop Laurie
Bishop Emeritus Dave Brauer-Rieke, current member of the Disaster Response and Preparedness Team and his wife Gretchen Brauer-Rieke, a medical professional RN/MSN, created this helpful video on COVID-19.
A Letter from the Oregon Synod Disaster Response Team
March 16, 2020
Little did we expect that our new Oregon Synod Disaster Response Initiative would be engaged in full-on response mode so soon!
Today, we are writing to you to underscore the seriousness of the COVID19 Coronavirus health emergency and to ask you to act now to protect the health and safety of your communities by adhering to Centers for Disease Control and Oregon Health Authority guidance.
CDC recommends that for the next 8 weeks, organizers cancel or postpone in-person events that consist of 50 people or more throughout the U.S. More Information on Mass Gatherings.
Oregon Health Authority/the Governor's Office recommends that individuals in high risk populations (those over 60 years of age, or those with an underlying health condition) should avoid social and community gatherings of more than 10 people, for four weeks (through April 8, 2020).
Today, President Trump issued guidelines that called for Americans to avoid social gatherings of more than 10 people and to limit discretionary travel.
The bottom line for us, this means cancelling all in-person worship services and group activities for the next 4-8 weeks or until we hear otherwise.  We know that with situations changing so rapidly, these sites may not always be in sync so we will try to bring you the most recent developments as we get them.
If you need help creating alternatives to worship, study, and prayer, please call the synod office at (503) 413-4191 or our team via Jan Wierima at (503) 318-8145.
We will be sending you accurate, practical resources, information pages in English and Spanish, and CDC and OHA updates, so please watch for emails from both the synod office and the Oregon Synod Disaster Response Team. 
It is vital that we take strong measures now to help stem the spread of this virus.  Please contact us with your questions and we will get you answers!
Your leadership is vital—thank you for taking these strong measures now.  Watch for regular updates!
In Faith, With You, 
Jan Wierima, Charlene Larsen, and John Core
Oregon Synod Disaster Response Team
Synod Office: (503) 413-4191    Jan Wierima (503) 413-4191
March 12, 2020
Dear siblings in Christ's liberating love,
God knows there is enough anxiety in the air in this intense and polarized election season when climate change is eroding our planet and our denials, and the church we love is aging, shrinking and increasingly misunderstood. We do not need the coronavirus in the mix, but in the mix it is. Social distancing and self quarantining appear to be critical ways of dealing with the spread of the disease. As we in the Oregon Synod strive to be faithful and courageous leaders, here are a few things we know:
The World Health Organization has just declared that the COVID-19 outbreak has gone from an epidemic to a pandemic. An epidemic is something that has gone beyond human control and a pandemic is something that is both out of control and now worldwide or covering huge geography. This means we are most likely yet at the beginning of its impact.
30 people in Washington State have died. Others in New York and New Jersey have died. Thousands have been diagnosed and many others remain undiagnosed.
The elderly and those with compromised health are the most at risk.
135 colleges and universities like Smith and Stanford are sending students home to study online for the foreseeable future.
Some synods are canceling all worship services. Others are suggesting no Lenten potlucks and no peace-passing, wine or juice, or open baptismal fonts at worship.
At least one synod is on the verge of canceling its April synod assembly. We are delaying our Assembly registration (scheduled to open this week) while we monitor the situation.
The CDC appears to be indicating that the best thing we can do is to slow the inevitable progression of the disease throughout the country. If we can slow or halt its progress, hospitals will be better able to serve the reduced numbers. If not, our health system may be overwhelmed and not able to care for the sick and affected.
Remember that the spread of the virus is most often exponential. The CDC reports that Italy, for example, had 62 identified cases of COVID-19 on the 22nd of February. It had 888 cases by the 29th of February, and 4,636 by the 6th of March.
I've been praying, thinking and studying, and reluctantly as your bishop, I strongly suggest:
Canceling worship services for a season.
Communicate well. Provide clear and consistent information about the disease from trusted sources. Explain that the health and wellness of the congregation and community is your utmost concern.
Follow up with those who are ill or will be concerned, afraid, alone, or at risk.
Create an old-fashioned phone tree to connect with members.
Prepare an online at-home worship service for each worship service canceled. Perhaps use video! Scan the internet for good ideas.
If you continue with worship, skip the wine, juice and the passing of the peace with touching. Instead, substitute bows, waves or other greetings in the name of Christ. Focus on hand washing. Provide hand sanitizer in all rows as it is available.
Encourage those who are ill to stay at home and self-quarantine.
Prepare for the worst and pray for the best.
There are many, many good articles and resources.
Seek the welfare of the city where I have sent you…and pray to the Lord on its behalf for in its welfare you will find your welfare. Jeremiah 29:7
Whatever you decide, God bless you and keep you! I will be praying.
In Christ,
Bishop Laurie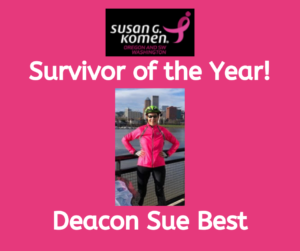 We are so proud of Deacon Sue Best, who has been honored with the Survivor of the Year award from the Susan G. Komen Oregon and SW Washington affiliate! This award celebrates a local breast cancer survivor, who has supported, demonstrated and served the Komen Affiliate and inspired others who travel the journey of breast cancer to live the Komen promise: to save lives and end breast cancer forever by empowering people, ensuring quality care for all and energizing science to find the cures. Over the last 20 years, Sue has served in a wide range of volunteer roles including Race for the Cure, committee membership-grants, annual conference planning, ED search committee; Worship in Pink (WIP) liaison at Augustana Lutheran, frequent speaker for WIP and Issues After Breast Cancer Conference, and, most recently, as the closing keynote speaker at the March 2019 Issues Conference https://www.youtube.com/watch?v=eY3lpYYgjpI. Thank you, Sue, for inspiring us with your advocacy!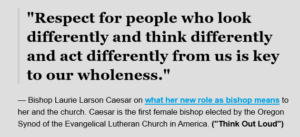 On Monday January 6, 2020 Bishop Laurie was interviewed by Dave Miller for OPB radio's Think Out Loud segment.
Click on the link below to listen to the full interview.
Listen to "First Woman Bishop" on Spreaker.
On December 14, 2019, Laurie Larson Caesar was installed as bishop for the Oregon Synod  by ELCA Presiding Bishop Elizabeth Ann Eaton.  The event was held at Trinity  Episcopal Cathedral in NW Portland.  It was an ecumenical and interreligious service with blessings from representatives from the Yakama Nation, the Sikh, Jewish and Muslim communities.  Here are links to two news articles:
Our ancestors focused much attention on strangers, aliens, foreigners, those fleeing persecution. Central to the self-understanding of all who hold the Hebrew scriptures as sacred is this line from Exodus:
You must not mistreat or oppress foreigners in any way. Remember, you yourselves were once foreigners in the land of Egypt.

Exodus 22:21
Except for our Native American kindred, we US citizens were all once strangers in a strange land. The recent declaration of the ELCA as a sanctuary church body is one more way that we are seeking to recognize that, and to live into our deepest values as followers of Christ's Way. It is a statement that says to our undocumented neighbors, "You matter. We see you. We stand by you." One undocumented friend of mine said, through tears, "You have no idea what this means to me. Sometimes, with ICE raids happening all around me, I feel like all White people hate us." There will be no one correct way to do this. I was honored to be able to stand up at the recent ELCA Churchwide Assembly as the Bishop of the Oregon Synod, the first synod to declare itself a sanctuary synod, and say, "This action does not demand that any congregation, synod or ministry engage in civil disobedience or illegal action. Instead, it declares to the world that we stand in solidarity with those who are loved by God but remain at the margins of our culture. Instead, it invites each church and synod to discern its own place in God's welcome to all. Some will physically house those in danger or protest at ICE facilities, but many more will pray for the children separated from parents, provide food or assistance to the hungry at the border, offer citizenship classes for their neighbors, visit the detained or write letters to legislative leaders."
For some of us all this may be unsettling. We may never agree. But as children of God, which is who we are, we are loved by our Creator even when we disagree.
So then you are no longer strangers and aliens, but you are citizens with the saints and also members of the household of God, built upon the foundations of the apostles and prophets, with Jesus Christ himself as the chief cornerstone.

Ephesians 2
For that I say, "Thanks be to God."
Bishop Laurie