News and Events for the Oregon Synod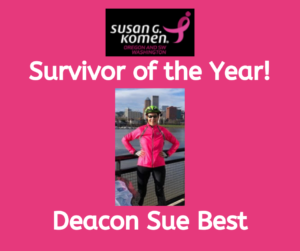 We are so proud of Deacon Sue Best, who has been honored with the Survivor of the Year award from the Susan G. Komen Oregon and SW Washington affiliate! This award celebrates a local breast cancer survivor, who has supported, demonstrated and served the Komen Affiliate and inspired others who travel the journey of breast cancer to live the Komen promise: to save lives and end breast cancer forever by empowering people, ensuring quality care for all and energizing science to find the cures. Over the last 20 years, Sue has served in a wide range of volunteer roles including Race for the Cure, committee membership-grants, annual conference planning, ED search committee; Worship in Pink (WIP) liaison at Augustana Lutheran, frequent speaker for WIP and Issues After Breast Cancer Conference, and, most recently, as the closing keynote speaker at the March 2019 Issues Conference https://www.youtube.com/watch?v=eY3lpYYgjpI. Thank you, Sue, for inspiring us with your advocacy!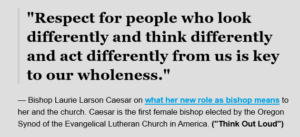 On Monday January 6, 2020 Bishop Laurie was interviewed by Dave Miller for OPB radio's Think Out Loud segment.
Click on the link below to listen to the full interview.
Listen to "First Woman Bishop" on Spreaker.
On December 14, 2019, Laurie Larson Caesar was installed as bishop for the Oregon Synod  by ELCA Presiding Bishop Elizabeth Ann Eaton.  The event was held at Trinity  Episcopal Cathedral in NW Portland.  It was an ecumenical and interreligious service with blessings from representatives from the Yakama Nation, the Sikh, Jewish and Muslim communities.  Here are links to two news articles:
Our ancestors focused much attention on strangers, aliens, foreigners, those fleeing persecution. Central to the self-understanding of all who hold the Hebrew scriptures as sacred is this line from Exodus:
You must not mistreat or oppress foreigners in any way. Remember, you yourselves were once foreigners in the land of Egypt.

Exodus 22:21
Except for our Native American kindred, we US citizens were all once strangers in a strange land. The recent declaration of the ELCA as a sanctuary church body is one more way that we are seeking to recognize that, and to live into our deepest values as followers of Christ's Way. It is a statement that says to our undocumented neighbors, "You matter. We see you. We stand by you." One undocumented friend of mine said, through tears, "You have no idea what this means to me. Sometimes, with ICE raids happening all around me, I feel like all White people hate us." There will be no one correct way to do this. I was honored to be able to stand up at the recent ELCA Churchwide Assembly as the Bishop of the Oregon Synod, the first synod to declare itself a sanctuary synod, and say, "This action does not demand that any congregation, synod or ministry engage in civil disobedience or illegal action. Instead, it declares to the world that we stand in solidarity with those who are loved by God but remain at the margins of our culture. Instead, it invites each church and synod to discern its own place in God's welcome to all. Some will physically house those in danger or protest at ICE facilities, but many more will pray for the children separated from parents, provide food or assistance to the hungry at the border, offer citizenship classes for their neighbors, visit the detained or write letters to legislative leaders."
For some of us all this may be unsettling. We may never agree. But as children of God, which is who we are, we are loved by our Creator even when we disagree.
So then you are no longer strangers and aliens, but you are citizens with the saints and also members of the household of God, built upon the foundations of the apostles and prophets, with Jesus Christ himself as the chief cornerstone.

Ephesians 2
For that I say, "Thanks be to God."
Bishop Laurie
On Monday, August 19, community leaders gathered on the steps of the Washington county courthouse to stand in solidarity with the victims of the recent mass shooting sin El Paso, Texas and Dayton, Ohio.
Speakers included:
Washington County Chair Kathryn Harrington
Sheriff Pat Garrett
Ms. Salma Ahmad, Bilal Mosque
Metro Councilor, Juan Carlos Gonzalez
Bishop Laurie Larson Caesar (starts at 22:30)
Watch as these leaders responded to the troubling rise in hateful rhetoric and violence that are deeply rooted in racist ideology, and reaffirm the strength of diversity in Washington County.
Bishop Laurie was one of over 300 leaders who turned out at the Washington County courthouse in Hillsboro on Monday, August 12, 2019 to advocate for our immigrant neighbors. People of faith, legal advocates, and legislators came together to say that everyday ICE is allowed to operate in our courthouses is another day where members of our community are at risk of being racially profiled, pepper sprayed, or harassed.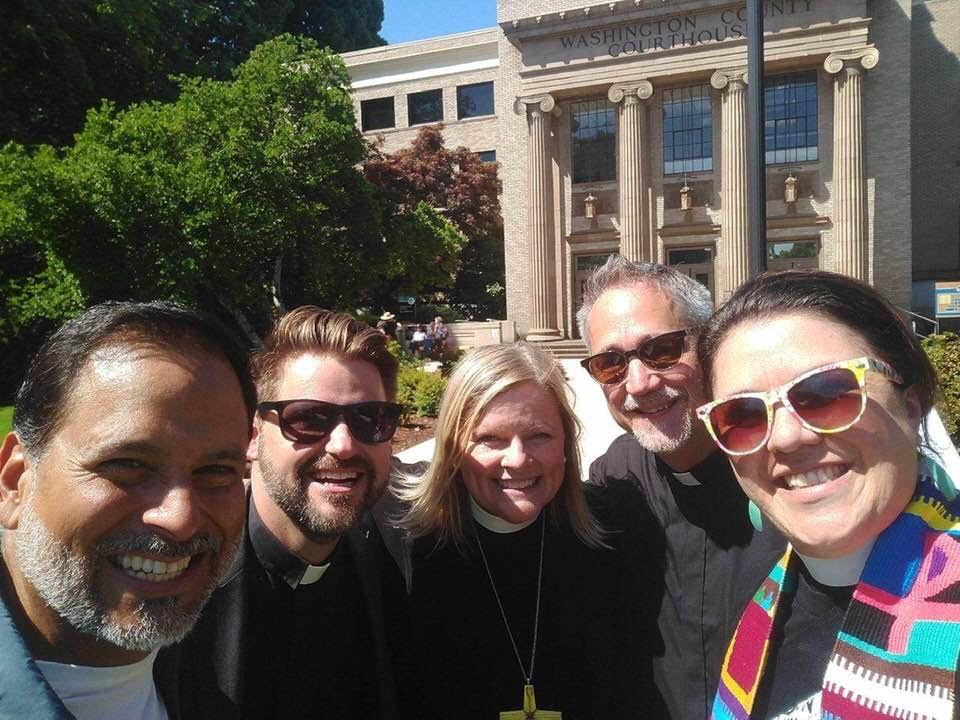 Rally attendees also stood in solidarity alongside Isidro Andrade-Tafolla who was racially profiled by ICE agents during an IMIrJ vigil at the courthouse almost two years ago. The interaction was caught on video by ACLU legal observers. From the center of the circle, Isidro and the ACLU announced that they are filing a claim against ICE.
Want to add your voice to the cry to remove ICE from our courthouses? Please send an email, letter, or postcard to Chief Justice Walters sharing your concern and inviting her to join our circle of protection! See instructions here.
Dear siblings in Christ,
As many of you know, last week the ELCA Churchwide Assembly adopted a resolution that, among other things, declared the Evangelical Lutheran Church in America (ELCA) a sanctuary denomination. Many of you are asking, "What does this mean?"
Our call to love our neighbor is central to our faith. In our baptismal covenant we promise to strive for peace and justice in all the world. One of the ways we live out this vow is through our commitment to welcoming the stranger. With this declaration, we publicly state that walking alongside refugees and immigrants is a matter of faith.
We have prepared talking points to provide a better understanding and further clarification on what sanctuary means for you and your congregations. We acknowledge this will look different in different contexts across the ELCA.
We also hope this resource will help guide conversations with your parishioners and your community about what our faith says about immigration.
"Welcome one another, therefore, just as Christ has welcomed you,
for the glory of God" (Romans 15:7).
In Christ,

The Rev. Elizabeth A. Eaton
Presiding Bishop
This year the ELCA celebrated 50 years of ordaining women, 40 years of ordaining women of color, and 10 years of ordaining LGBTQIA+.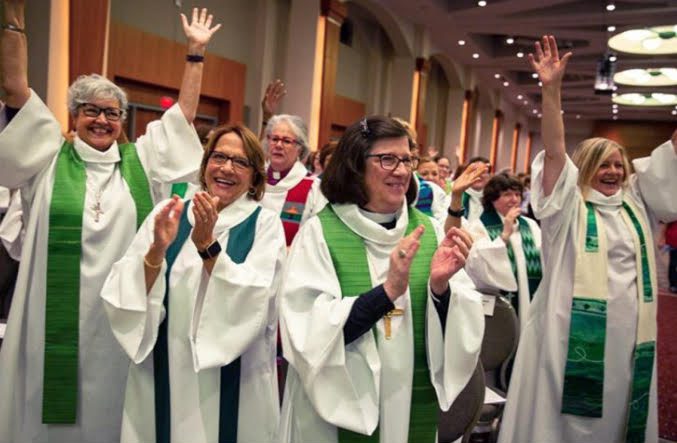 2019 also marked the election of the first female, Laurie Larson Caesar, to hold the office of bishop for the Oregon synod! In fact, all the bishops elected in 2019 are women!
2019 ELCA bishops who happen to be women

New class of 2019 bishops, who ALL happen to be women