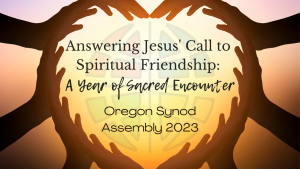 May 20, 2023
Greetings Siblings in Christ,
Scripture is full of holy friendship – gentle Jonathan and young David, sojourning Ruth and Naomi, perhaps even courageous Shadrach, Meshach and Abednego. So also, Jesus. In his final and perhaps most intimate conversation with his disciples, Jesus says,
My command to you is this: Love each other as I have loved you. Greater love has no one than this: to lay down one's life for one's friends. I no longer call you servants… Instead, I have called you friends. John 15:15
I am so grateful that ours is a faith of incarnation and relationship. We proclaim the Word made flesh, God – the Universal Source of all that is – with us, come in the form of a vulnerable, small and beautifully enfleshed infant. As this young man grew, he touched lepers, sat with the rejected, celebrated children, ate with tax collectors, healed widows and touched bodies.
This year in the Oregon Synod we've been exploring holy friendship, sacred encounter, the kind of relationships that result not in conversion per se, but in mutual transformation. Think Jesus and the Syrophoenician woman, or Philip and the Ethiopian in the chariot. Even when in the bud, friendships transform all.
Thanks to the reality of Zoom, one of the Oregon Synod's "flowers in the mud" of the pandemic times is that we are connecting across geography, age, experience, theology, politics and more. Through numerous online cohorts hosted by the synod, mature leaders from Klamath Falls are praying with young leaders from Hillsboro and Gresham, and others in Prineville are studying scripture and climate change with souls from Florence and North Portland. Your synod currently hosts at least ten active cohorts, which includes more than 75 small groups, and thus over 450 individuals together exploring community vitality, rural ministry, congregational leadership, housing and houselessness, racial justice, climate resilience, worship, scripture, theology and more. Imagine what Spirit is doing in those circles of sharing and discernment! If you'd like to hear about these groups, I invite you to sign up on our website oregonsynod.org under NEWS for our email newsletters!
But it's not just individual relationships. Friendship can be a collective journey as well. The Oregon Synod currently has more than nine congregations which are partnerships of two or more congregations, and seven which are intentional ecumenical communities resulting from years of collective collaboration and discernment. Six congregations just this year have started a "friendship process" to explore deepening relationships with one another for the sake of Christ's life and life abundant.
Thanks be to God, we are not all the same. Our churches, our cities, our gifts and our passions differ. Yet when our sacred encounter is full of depth, vulnerability and Spirit, then inevitably vitality, hope and possibility emerge. Methodists in Hood River, Episcopalians in Heppner and Catholics in Beaverton do not worship or sing exactly like Lutherans, and because of that, we in the ELCA receive depth and richness from others through Christ Jesus who unites us. Beloved in the Oregon Synod, what could God's Spirit unleash if we all dared to be connected in a meaningful way with one another – with our congregations, with our neighborhoods and with each other across the Oregon Synod?
Our 2023 Oregon Synod theme, "Answering Jesus' Call to Spiritual Friendship" is all about such possibilities. Our theme invites us to ask ourselves the question: How is God longing to transform us, our congregations and our towns through sacred encounter, through rich relationship, through meeting our neighbor not as a person in need, but as a person with unique gifts which might bless us? Who are we walking with? How well are we listening?
How open are we to being transformed? Much of what we are doing in the Bishop's office has to do with this:
hosting holy encounters through the Lay School of Theology;
Congregational Vitality Cohorts;
Rural Ministry cohorts:
Reckoning with Racism cohorts;
Climate Resilience cohorts;
Distinct Congregational Presidents, Musicians and Treasurers cohorts;
Spiritual and Theological Mutual Accompaniment groups;
Candidacy processes;
Racial Repair and Relationship teams;
Local Cluster gatherings;
Transition Pastors Groups and Transformational Transitions Facilitators Sessions;
Stewardship cohorts;
Kaleidoscope Institute Facilitator Trainings;
First Call Theological Education weeks;
Synod Day of Learning;
and more.
Who are we in the Oregon Synod?
The Oregon Synod is together 105 congregations, two campus ministries, six mission starts, and one Christian camp. We celebrate Luther House, a campus ministry of the ELCA located at the Oregon State University in Corvallis and Good Soil, a campus ministry of the ELCA located at the University of Oregon in Eugene. Camp Lutherwood, a Lutheran camping ministry is just outside Cheshire. We work with two hospital systems born of Lutherans, Legacy Health in Portland and SW Washington, and Columbia Memorial Hospital in Astoria. Lutheran Community Services Northwest has offices in Portland and ministries in Astoria, Prineville, Klamath Falls, McMinnville, and Beaverton. Our mission developers are working with Spanish-speakers in the Mid-Willamette Valley, with the LGBTQ community through Queer Enough, with recent immigrants in the Cully Neighborhood, and young adults and families from across the state via Together Lab, Storyline and Story Dwelling. We partner closely with Pacific Lutheran University in Tacoma, WA, Luther Theological Seminary in St. Paul, MN, Pacific Lutheran Theological Seminary in Berkeley, CA.
This is just a glimpse of who we are as ELCA Lutherans in Oregon. And while mission support from congregations was down about 3 percent from last year, gifts from individuals inspired by what we are all doing together was up 300%. Grants from the Churchwide Offices and other organizations totaled almost $275,000. Thanks to the creativity and hard work of your synod staff and mission developers, grants from other sources came to over $600,000!
With you, we are doing more than ever, diversifying funding and cultivating theological imagination even in challenging times. Thank you! And we too are seeking to be generous:
42% of your Mission Support goes to support the important work of our ELCA Churchwide Offices and global ministries;
5 percent is shared with regional ministry partners;
The remaining 53% helps fund synodical ministry so that we can better support you. This year we ordained five new, gifted rostered ministers to serve in our synod, and welcomed four young intern pastors to accompany and learn with six of our congregations. Seven pastors retired and three congregations celebrated 75th anniversaries. Your ministries grow and change and transform, yes, but the ripples do not stop touching the lives of our
neighbors even into the distant, far-off future.
Oregon Synod, we are all better because of our growing friendships, because of how God's Spirit works through our broken and beloved bodies, because of you! Thank you for being true ministry partners with us in the world God loves.
This is my commandment, that you love one another, just as I have loved you. John 15:12
Yours in God's service,
Bishop Laurie Larson Caesar, Oregon Synod, ELCA