INTO THE LIGHT! 
 Oregon Synod Assembly 2019 Report and Summary
The Oregon Synod Assembly took place May 10-12 at The Graduate Hotel in Eugene, OR. Our Assembly Theme this year is INTO THE LIGHT! Taken from Revelation 7, our focus will be on the love of God all Creation is invited into, and the amazing ministry happening right before our eyes.
Highlights for the Assembly included:
Worship, prayer and fellowship, with a special "Mother's Day – Celebration of Women's Ministry" service Sunday, May 12. This sermon for this service was offered by Assistant to the Bishop Susan Kintner.
An amazing Key Note Presentation was offered Friday evening, May 10, by Krishanti Vignarajah, President and CEO of Lutheran Immigration and Refugee Services.
The election for a Synod Bishop, Vice-President, Council Members and more.
Information tables from ministry partners.
A quilt auction.
A banquet to recognize pastors and staff members celebrating anniversaries or finishing terms of service.
Feel free to download an Assembly Report Summary Brochure to share with your members.
The original, pre-Assembly preparation site and materials is here.
Assembly Documents
"Reorientation: A Personal Journey"
Bp Dave Brauer-Rieke Poetry
Four Resolutions and Memorials were adopted by the Assembly, all by significant majorities. These were:
The Oregon Synod Council at the June 7-8, 2019 meeting discussed these Resolutions and will see to their appropriate implementation.
The General and Endowment Budgets were both adopted by the Assembly without changes:
Thank you to all our Oregon Synod congregations and ministries for their support of our Synod and Churchwide ministries through their Mission Support.
Reports from our Synod Officers were give Friday afternoon.
Please Return Later for …
Complete Election Results for Synod Council and other Synod Committees.
Minutes from the Assembly.
Congratulations Bishop-Elect
Laurie Larson Caesar!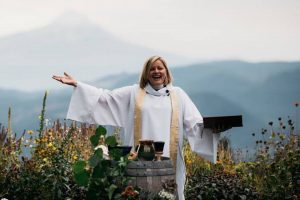 Our Oregon Synod Assembly this year focused on the election of a new bishop. We welcome the Rev. Laurie Larson Caesar who was elected on the 5th ballot, receiving 164 votes over the second-place candidate, current bishop Dave Brauer-Rieke, who received 118 votes.
Bishop-Elect Larson Caesar has been the pastor of Spirit of Grace in Beaverton since 1996. Spirit of Grace is a combined Lutheran/Roman Catholic ministry. She very much looks forward to this opportunity to serve our church and is grateful for your support and prayers.
August 1, 2019 is the new bishop's first day in office.
August 4-10 she will be at the ELCA Churchwide Assembly in Milwaukee, WI.
Her installation as bishop is currently scheduled for 11 AM, Dec. 14 to be held at Trinity Cathedral in Portland. Details to follow.
Keynote Speaker
Krish O'mara Vignarajah
The Assembly was thrilled to hear from the new CEO and President of Lutheran Immigration and Refugee Service the first evening of the Assembly.
President O'Mara Vignarajah is on the second leader of LIRA who herself is also an immigrant. She says the work of immigrant resettlement in the United States is a vital calling which we undertake "Not because these people are Americans, but because we are Americans."
You can learn more about Krish and Lutheran Immigration and Refugee Service – and our work – at www.lirs.org. In its 80-year history LIRS and you have helped to settle more than 500,000 refugees and migrants in the U.S.