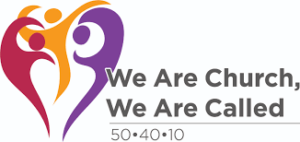 2020 marks the 50th anniversary of the ordination of women in the ELCA, the 40th anniversary of women of color, and the 10th anniversary of LGBTQ+ siblings.
It's an incredibly important marker for the ELCA, though it is only the beginning for the Church, as women are still denied ordination across the denominations and hold less than 15% of the leadership positions in the worldwide church! Therefore, in 2020, we in the Oregon Synod will highlight one woman from Christian history every week. Some you may know, others you may not, but all worthy of our respect and gratitude.
#36: Dr. Lucy Jane Rider Meyer
Dr. Lucy Jane Rider Meyer, was already an MD, a social worker, and educator when she became interested in the European revival (led by Lutherans) of the ancient female diaconate. Before the office disappeared for centuries, deaconesses cared for the poor and sick, were present at interviews of women with clergy, instructed women preparing for baptism, and assisted at their baptisms. Dr. Meyer saw the possibility of an American revival. She and her husband had already co-founded a school for Christian women. In 1887, she asked for a group of students to remain in Chicago for the summer to provide medical and social services for the urban poor. Some of these women moved in together and effectively started the first deaconess home in the United States. None of this was without controversy. Dr. Meyer was attacked multiple times by Christians who did not want women to be educated or to act like Catholic sisters. They also criticized her for her belief that the Bible was written by multiple inspired authors and shaped by editors (which is now the standard teaching in seminaries). Dr. Meyer did not back down on any of her beliefs. She believed that women needed formal education to best serve as Christians. Dr. Meyer held firm to her own Christian beliefs and blazed a trail for women in ministry. In 1888, the deaconess movement received official sanction from the Methodist church. In 1889 Dr. Meyer published a history of the movement titled Deaconesses: Biblical, Early Church, European, American. She also founded and edited the periodical the Deaconness Advocate (née the Message). In 1908 Dr. Meyer formed the Methodist Deaconess Association.